How We Began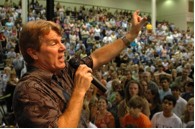 Global Evangelistic Missions is an international ministry called to global harvest. Jim Drown and his wife, Kathy take God's saving, healing, and delivering power to the nations.
Global Evangelistic Missions is sparking revival fires and equipping the body of Christ in power evangelism and healing ministry wherever they go. In addition, Jim and his team conduct evangelistic healing crusades throughout South America, Africa, India, Mexico and other places throughout the world. Thousands upon thousands have been saved, healed and delivered.
Global Evangelistic Missions connects with pastors and leaders of local congregations in the cities we minister in order for the new believers to be connected to a church community. Wherever Global Evangelistic Missions travels we take teams on short term mission trips, conduct street outreaches, evangelistic crusades, prison ministry, children's ministry, feed the poor, prophetic evangelism, as well as host pastor and leader equipping services. Over the last few years we have also been moving in governmental favor, speaking to those in positions of authority in the government as well as business men.