Biography
Jim Drown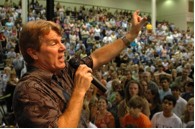 Jim and his wife, of thirty-seven years, Kathy are founders of Global Evangelistic Missions (GEM), a global ministry with home offices near Atlanta, Georgia. Jim and Kathy are proud parents of three children and proud grandparents of five grandchildren. Jim is a revivalist, who ministers with the "fire that is shut up in his bones." Under the powerful anointing of the Holy Spirit, Jim and his GEM team, along with the cooperation of area pastors and Christians, bring God's "Glory Invasion" to cities around the world.
Jim has a passion for power evangelism. He ministers with a powerful healing, prophetic anointing. Jim is also a prominent businessman in Atlanta, Georgia and on a personal level has a great sense of humor. Friends have called him "the man that walked on water" because in days gone by he was a member of Canada's championship national barefoot water ski team.
On behalf of GEM, Jim has ministered in many countries across the globe. GEM works in partnership with a children's ministry to abandoned kids and has partnered with opening a school for these kids in Peru. They have held crusades in over 35 cities in South America and started 22 International Schools of Ministry in many of those cities. Jim and Kathy Drown offer opportunities for GEM teams and volunteers to travel the world with them and be a vital part of working in "the glory realm," in miracles, salvations, signs and wonders. No one on a GEM missions trip gets to "sit on the bench." Jim and Kathy believe that all spirit-filled believers should "do the stuff" that Jesus told us to do--Lay on hands, heal the sick, raise the dead, save the lost. GEM teams and volunteers are equipped as they pray for the needy in evangelistic crusades, prisons, on the streets and in church conferences throughout the world.
Jim Drown has a desire and anointing to try to help you bring your church and city into a fresh experience of God's outpouring. He has been moved by the hunger for the glory of God that people all over the world are currently seeking. Jim & Kathy would love to join up with you and see what mighty things God will do when together you help bring a "Glory Invasion" to your church and town.
Feel free to contact GEM, book him for an event, and even sign up for the next GEM mission trip. To do this, just contact JIM or KATHY DROWN at:
GLOBAL EVANGELISTIC MISSIONS
P.O. Box 2478
Loganville, Georgia 30052

E-MAIL: globalevangelisticmissions@windstream.net
WEBSITE: http://www.globalevangelisticmissions.org